YOU make the difference
You are the heart of the Jewish Endowment Foundation of Louisiana. Your contributions impact thousands of people in Greater New Orleans, throughout the United States, and Israel. The Jewish Endowment Foundation of Louisiana is honored to partner with so many caring and generous donors who practice the traditions of Tikkun Olam and Tzedakah.
HOW TO CONTACT JEF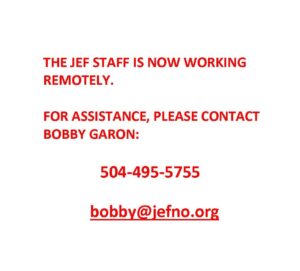 Since 1967, the Jewish Endowment Foundation has served as a repository of funds for planned giving, sustaining our Jewish community by assisting in emergencies and encouraging new projects and initiatives. JEF has an outstanding reputation for responsible investing and is trusted to steward charitable funds for many of our Jewish organizations and individuals. JEF's General Fund played a vital role in our Jewish community by contributing to the renewal effort following Hurricane Katrina.
"As our ancestors planted for us, so do we plant for future generations."
— Talmud Ta'anit 23A